sunday in the sun. saurabh, namrata, amit and me clicking photographs of nallahs around the city. these terribly disused waterways that start off in the mountains in national park, lead down through all kinds of areas- middle class neighborhoods, industrial areas, slums until they disappear into the mangroves where the city meets the sea.
the trip started out in dahisar where namrata promptly stepped on freshly laid shit. then we followed that nallah (or river- as it once was known) to where it entered national park below flyovers and past slums. then for more we went to bandra kurla complex, irla and vakola followed by lunch at 'papillion'.. would you believe i saw 'kung fu hustle' again.. this time at 'the hub' on the highway. still as entertaining the second time around.. i got more of the film references.. and drove back practicing the buddhist palm technique on the streering wheel.
pizza for dinner ended the day while watching aishwarya rai simper away on the oprah winfrey show where oprah taught american women that norwegians eat lambs testicles and indian women have spiritual sex. terrific, no?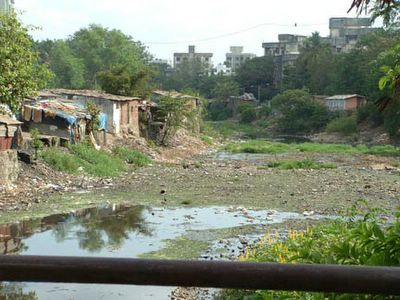 dahisar river- past the slums, belching industries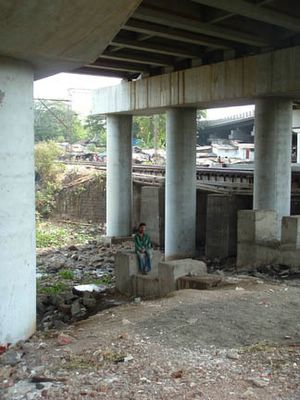 dahisar river- under the flyover, beside the tracks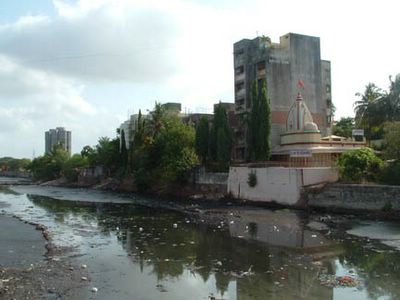 dahisar river- near the temple, past the apartments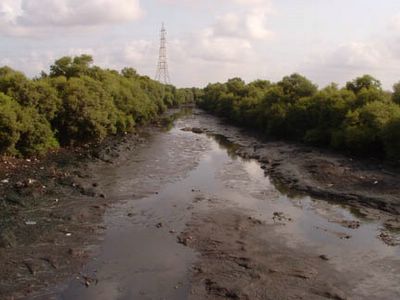 dahisar river- into the mangroves