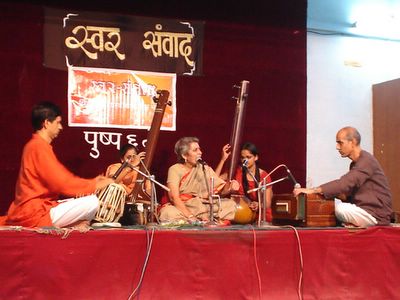 mom on vocals, joshi on tabla, wagal on harmonium.. sonal on tanpura
its been a long time (one and half year is what my mother tells me) since my mom performed live for an audience. yesterdays concert at thane was in a hall on the first floor of a community center. the road to thane from borivili is lovely in the evenings- ghodbunder road twists and turns in between the hills to the south and vasai creek to the north.. we got there two hours before the programme.. and did not get lost in the lanes of thane. thane is a strange place.. somewhere in between bombay and pune.. or so it feels.. the dahi misal that we had on the street corner to kill time, i was told by joshi- the tabla player, was exactly the kind you get in pune..

the hall itself was painted blue with chatais on the floor- tubelit, the audience largely marathi men and women out for their monthly dose of hindustani classical music.
the concert went off all right with the highlight i think being raag kedar which she started off the performance with. i am not sure that her begum akhtar ghazal or the thumri went down well with that particular bunch of people, but her bhairavi at the end was very good... sonal meanwhile decided to be decorative in the background- looking lovely in red doing her shy number refusing to sing even though when she did her voice soundedbeautiful on the microphone.. silly girl.- now if i had any talent i'd be preening like a rock star.